Bamboozlers Puzzle Assorted
Bamboozlers Puzzle Assorted
With Bamboozles, each puzzle is 2-in-1 because they are as fun to get apart and they are to put back together! 
Product details:
Each 3-D bamboo fidget puzzle measures 3 x 3 inches and is made of movable bamboo pieces
Train your brain in the four key development areas and take learning to the next fun level by solving puzzles related to science, technology, engineering and mathematics
Puzzles range in difficulty from 1-4. Each of the 4 different difficulty level puzzles is individually packaged in an attractive box—and includes the puzzle's solutions. With each puzzle see if you can figure how to take apart all the pieces through careful maneuvers
Watch carefully as the second part of the puzzle is to put all the pieces back together
Makes a great gift & is perfect for school, party favors, stocking stuffers, baskets, special needs, office, work, promotions and so much more!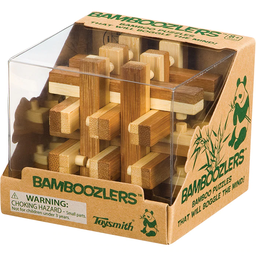 Bamboozlers Puzzle Assorted
Bds$ 

22.95

Bds$ 

22.95
Bds$ 

22.95