Boppy Pillow with Cover Notebook
Boppy Pillow with Cover Notebook
The award-winning Boppy Original Nursing Support is a registry must-have and a family favourite! Ergonomic support while nursing, bottle feeding, and bonding. Great to aid in sibling and grandparent bonding. 
Product details:
By allowing you to be more upright with baby, your arms and back will get a rest. The beltless design allows for an easy, one-handed placement with no fuss and the Miracle Middle® panel provides a seam-free connection with for a more comfortable fit for c-sections.
Versatile positioning supports the feeding style that works for you and baby. Whether cradle, cross cradle, football hold, or bottle feeding, you will be comfortable. Small enough to fit easily in your rocking chair or glider, but big enough to give the support you need.

Support for you and baby with hypoallergenic fiber fill and designed to customize with a variety of Boppy Brand Covers from cotton blends to organics sold separately.

Designed for your baby's adult-supervised, awake-time. This product is not for sleep. 
Offers versatile awake-time support such as Feeding (0+ months), propping (3+ months), tummy time (6+ months) and sitting (9+ months).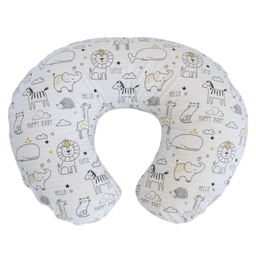 Boppy Pillow with Cover Notebook
Bds$ 

124.95

Bds$ 

124.95
Bds$ 

124.95